Historic Rehabilitation in the Woodland Heights Neighborhood
Sequel Architecture is excited to have been selected by the City to redevelop this abandoned historic building as our future office! Follow the project here through August 2023 when we hope to move in.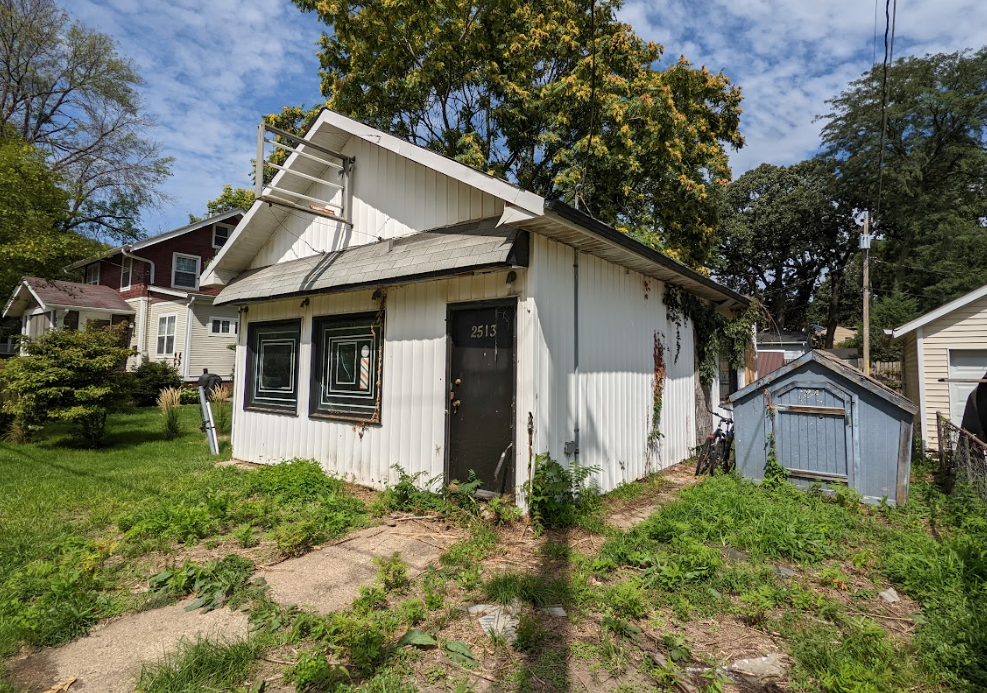 ---
Grefe Grocery
This small, unassuming building was originally constructed in 1913 as "Grefe Grocery". Hellen O. Wilkin purchased the business in the early 1920's and then sold it just a few years later to the then-manager, Neil Sanford Landess. Upon Neil's death, his son Paul L. Landess took over operation of the store. Paul, like his father, owned the store until he passed away in 1963.
---
Harlan and Bill's Imperial Styles Barbershop
The building was eventually sold to Harlan H. Thomas and William H. Thomas who remodeled the building into a barbershop. Harlan Thomas had been cutting hair since his early 20s (his mom was also a stylist). He graduated near the top of his state barber certification course and became known as a premier barber, traveling throughout Iowa and further to cut Black hair in a time when it was a generally segregated profession.
In 1988, Mr. Thomas was called to the Savery Hotel to trim the Jesse Jackson's hair while the Reverend was in town campaigning for president.
As a fixture in the jazz and blues music scene on Center Street and a member of the Soul Brothers band (and later the Platinum Blues Band), Harlan Thomas' involvement in the music community meant that the barbershop also served as a social hub centered around music. Harlan Thomas was honored as a 1999 inductee into the Iowa Blues Hall of Fame.
Mr. Thomas was generous to give us a CD produced just a few years ago with some solo work!
He is not performing live anymore, so if you listen and want to send a "virtual tip" to Mr. Thomas, we are collecting via Venmo and will forward to him!
Your support is appreciated.
The barbershop remained in operation for 47 years until closing circa 2015. A large building assessment for public improvements to the sewer system caused Mr. Thomas to close the shop at that time.
Recently, Mr. Thomas visited the barbershop building and shared some stories with us about the days when Saturday mornings meant people lining up down the block for one of his famous cuts!
---
Historic Landmark Status
We have been working with Kelli Lydon Research Services to uncover the building's history and significance to the City of Des Moines. On Monday, March 6, 2023, we completed the final step to designate the building as a Local Landmark.
Local Landmark status does three things:
Documents in the public record the story of the building and the people who are associated with it.
Helps ensure that the building is treated with sensitivity and respect long into the future
Make the building eligible for various assistance to help with historic rehabilitation work
---
What are the PLANS?
Sequel Architecture is a small architecture firm (currently two full-time and two part-time remote employees) with a focus on historic rehabilitation, sensitive urban infill, and other creative impactful work. We will be undertaking a sensitive remodel of this humble but contextually significant building for our permanent office location.
At 600 square feet, it's just big enough for four desks, a small conference table, a kitchenette, and an accessible restroom.