---
Sequel Architecture is small enough that the principal architect is involved with every project from start to finish… and smart enough that everyone on the team makes a meaningful contribution to a project's success.
We leverage the same technology as a bigger firm (Revit 3d BIM modeling and real-time rendering) but without all the overhead.
---
Steve Wilke-Shapiro – Owner/Architect
Steve is a Licensed Architect in Iowa and Minnesota.
Complementary Master's degrees in architecture and social work with a focus on community and economic development have helped Steve gain a fundamental understanding of how to use design as a tool for positive engagement with both individual clients and wider communities.
Early in his career, he worked on major rehabilitation projects in the emerging downtown St. Louis loft district. More recent projects include a broad range of practice ranging from kitchens and custom homes through large mixed-use developments, multi-family housing, and historic rehabilitation. On every project for more than 20 years, Steve leverages experience in local government, construction, development, and design.
His community orientation drives Steve to volunteer on several boards and commissions. In addition, he regularly engages with communities around Iowa on issues relating to historic preservation, revitalization, architectural design, and development.
---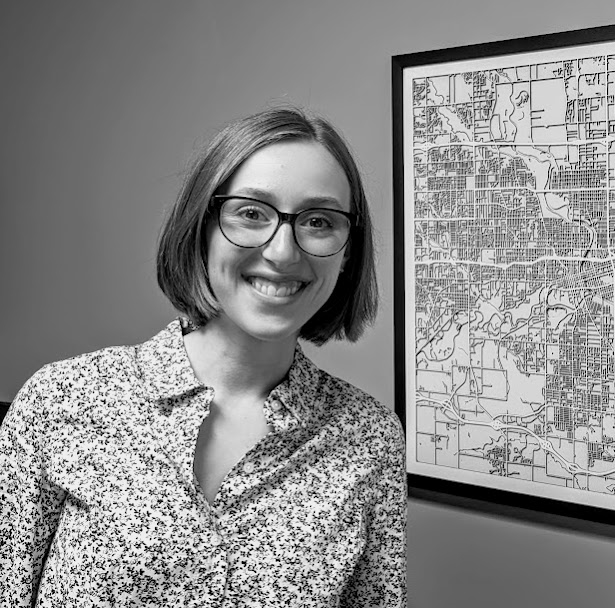 Emma De Jong – Design Intern
Emma is one of our two design interns for this summer. She recently graduated from the University of Northern Iowa with dual degrees in Business Management and Interior Design. She has experience with residential renovations, and ran her own house painting business throughout her college career.
She has a soft spot for old buildings with a rich history, and has a sustainability ethos that encompasses her life and work. She is excited to learn to execute the processes that Sequel follows in order to create thoughtful design solutions for historic buildings across Iowa.
This Fall, Emma begins the path of earning her Master of Architecture degree at Iowa State where she hopes to gain the tools and experience to become a Licensed Architect.
Michelle Cordova – Design Associate
Michelle has an interest in older buildings and a family connection to the building trades. She spent time working on plaster restoration at the historic Maytag hotel in Newton, IA, before pursuing a degree in Architectural Technology at Des Moines Area Community College.
She enjoys figuring out how to translate real-world buildings into 3d computer models, architectural detailing, and design.
Michelle is our resident Revit wizard… Revit is the computer program we use to design and document projects – to create the drawings that communicate the design intent for permitting and construction.
---
Kyle Johnson – Design Intern
Kyle is currently pursuing a Bachelor of Architecture degree at Iowa State University. He has prior work experience in construction and building material supply. He has a passion for historic preservation and adaptive reuse in the field of architecture and will pursue a minor in Preservation and Cultural Heritage at Iowa State.
This summer he hopes to learn more about the relationships between architect, engineer, state historic preservation office, and client. He looks forward to better understanding what design elements contribute to the historic significance of a building. Other learning objectives include understanding the Historic Tax Credit application process and proficiency in Revit modeling.
He is particularly excited to be working with the Sequel Architecture team because of its strong community involvement. Additionally, Kyle is excited for the opportunity to do real work preserving historic structures in the Des Moines area and helping to enrich the community's connection to its past.
---